Smith Cairns Ford Lincoln, Proudly Serving Bronx, New Rochelle and Mount Vernon, is Your Source for Quality Ford Auto Parts in Yonkers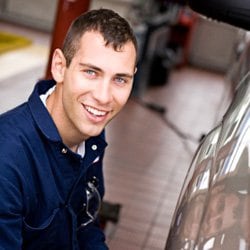 Nothing help you get more out of every mile than proper auto service for your vehicle. Of course, we realize more than a few drivers from Yonkers, Bronx, New Rochelle and Mount Vernon strongly prefer to perform such work themselves. That's why Smith Cairns Ford Lincoln keeps a healthy stock of genuine Ford parts for sale.
Find High-Quality Ford Parts for Sale in Yonkers at Our Parts Center
When you need the perfect part or accessory for your auto maintenance or customization project, we have your back here at Smith Cairns Ford. We offer a wide range of genuine Ford parts for sale in Yonkers so that you can find reliable parts for your needs. We know that having the right parts for the job is the key to any successful DIY service project, so we take care to keep a spectacular selection of high-quality parts for you to browse here at our parts center.
Why Buy Parts from Our Ford and Lincoln Parts Center?
You can find all kinds of auto parts at hardware stores and the like, but they don't offer the kind of fit and finish that genuine Ford parts do. When you buy from our parts center, you can do so with the knowledge that the parts we offer are designed specifically for your Ford Escape or Lincoln Navigator.
The parts in our inventory are designed by your car's manufacturer for the express purpose of maintaining your vehicle's integrity. You can count on your vehicle to perform reliably when you replace worn parts with the same kind of components it had when it first rolled off the assembly line. So, we always recommend choosing from our inventory of genuine parts when you shop for tires, brakes, headlights, and other components around Scarsdale, NY and the Bronx.
The same goes for accessories! Genuine Ford accessories are designed for your type of vehicle, so they offer a tailor-made fit and a level of reliability that off-brand parts can emulate but never really duplicate.
Shop Top-Notch Ford Parts
Do you need a part or accessory for your next DIY endeavor? We have you covered! Feel free to order parts online here on our site, and we'll be happy to help you find the perfect part for your needs here at our Ford and Lincoln parts center serving New Rochelle and Mount Vernon.